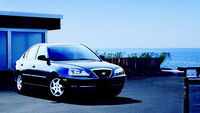 Year Models
Trims
Available Colors
The Hyundai Elantra (sold in South Korea as the Avante) is a compact car from Hyundai of South Korea launched in 1991. This vehicle was known as the Lantra in some markets. Between 1996 and 1998, the Elantra was called the Bimantara Cakra (1.5 L) and the Bimantara Nenggala (1.8 L) in Indonesia.
The Elantra was sold as the Lantra and Avante in some Australian and European markets until the 2001 model year, when the name was renamed and brought into line worldwide. Mitsubishi Motors of Australia complained that Elantra was too close to its Elante trim level, and Lotus in the UK and Europe suggested it was too close to its Elan name. By 2001, both the Elan and the Elante had ceased to exist. The Avante's renaming was necessary as Audi owns the Avant name in Europe.
Ad blocker interference detected!
Wikia is a free-to-use site that makes money from advertising. We have a modified experience for viewers using ad blockers

Wikia is not accessible if you've made further modifications. Remove the custom ad blocker rule(s) and the page will load as expected.